Arizona is famous for its sweeping landscapes with dramatic sights such as the Grand Canyon and Monument Valley. Tourists from around the world come to see these marvels and enjoy the views on some of the most scenic roads in North America.
The following drives will take you through some of the most breathtaking panoramas that include volcanic fields, lakes, pine forests, and eye-catching rock formations. These roads and their vistas have appeared in many movies, especially timeless Western films. You'll also encounter vast desert landscapes with iconic saguaro cacti and sweeping dunes. Needless to say, these sights are not to be missed.
Navigate these drives safely and confidently with a solid auto policy from Oasis Insurance, your trusted Arizona auto insurance company. It's easy to shop for car insurance online by entering your information into our convenient form any time of day. Our agents are standing by to show you all the insurance products you'll need when you plan an exciting day of sightseeing in Arizona.
1. Grand Canyon South Rim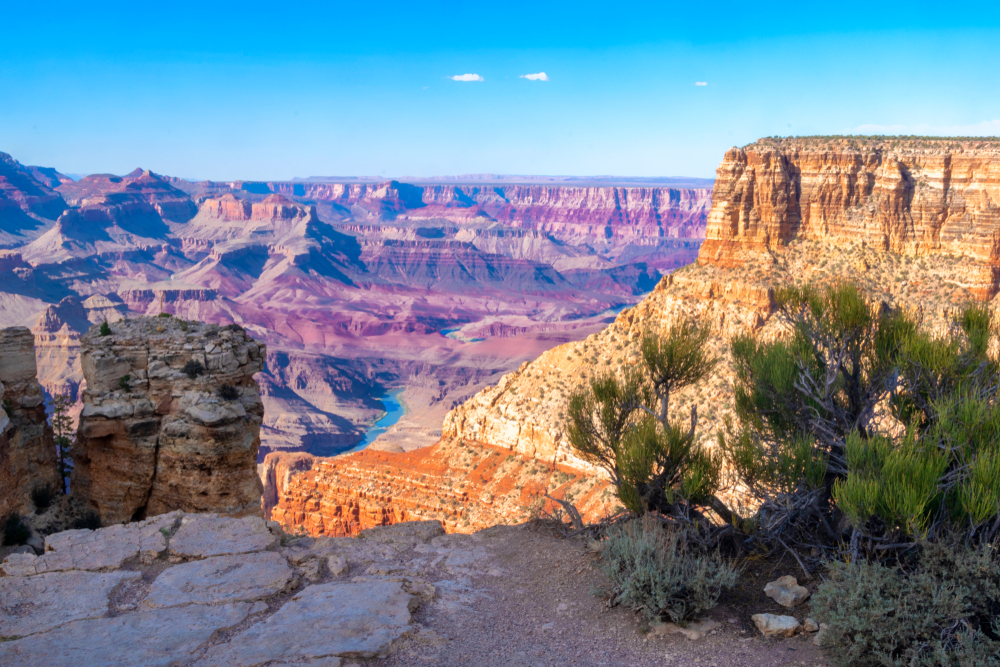 It'd be impossible to speak about the scenic drives in Arizona without including the Grand Canyon. This 57-mile drive begins in Cameron and goes through Grand Canyon National Park. The road runs by the Little Colorado River Gorge, and there are two significant overlooks.
The drive within the national park is vast. The famous Desert View Watchtower is the first stop, where you can get amazing views of the Grand Canyon and Colorado River. The drive then continues until you reach Grand Canyon Village, where you can eat and check into a hotel.
2. Monument Valley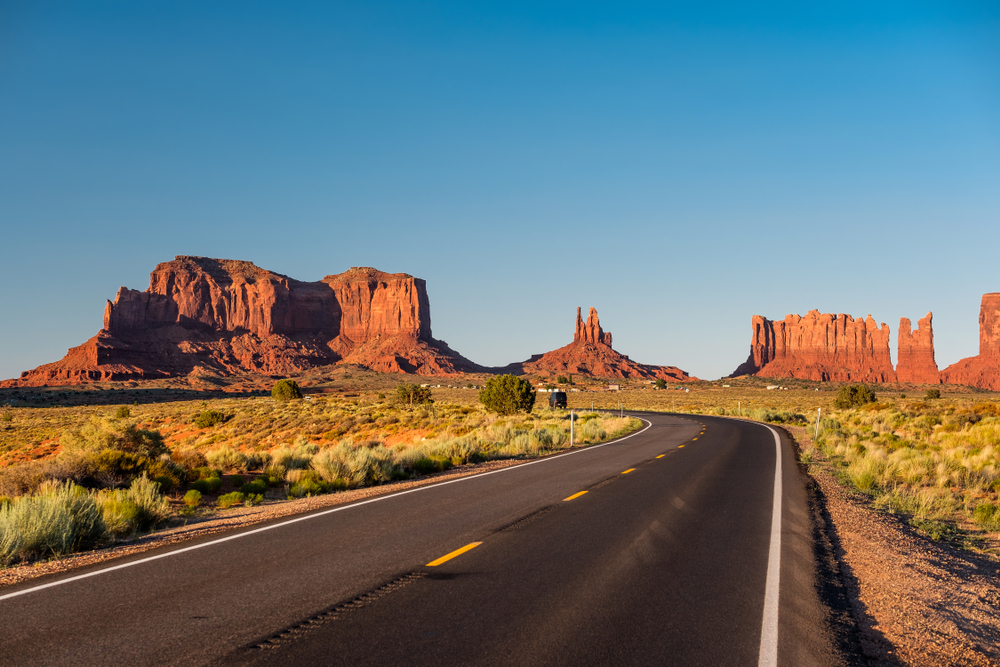 The Monument Valley Scenic Drive is one of the most famous roads in the Southwest. This 22-mile stretch runs through the Navajo Nation and offers unforgettable sights. Your first view on this drive will blow you away: Countless rock formations are as tall as 1,000 feet, towering over the landscape.
The land is barren, which highlights some of the most impressive geological features on Earth. You'll see purple-, orange-, red-, and rust-colored sandstones that have eroded into gorgeous natural sculptures. Agathlan, a massive volcanic rock formation, is also visible on this drive. You'll also see mesas and ridges, Laguna Creek, and Comb Ridge.
3. Catalina Highway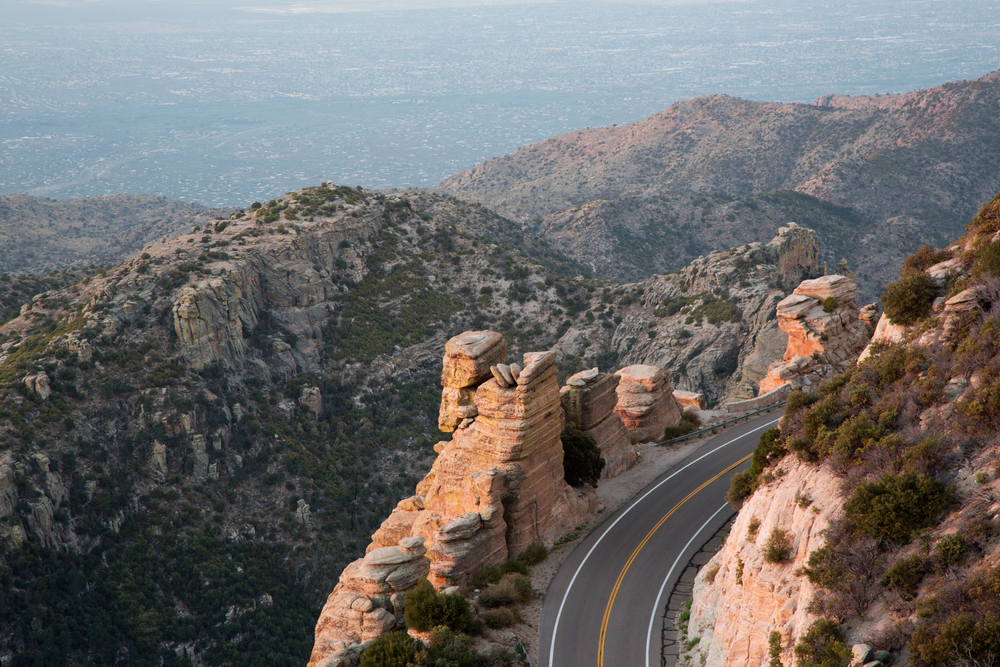 This drive takes you through extremely dynamic landscapes that offer the biological equivalent of driving through Mexico's deserts to the lush forests of Canada. But instead of the trip taking days, you can see it all in just a 27-mile ride.
Also known as Mt. Lemmon Highway and the Sky Island Scenic Byway, the Catalina Highway takes you through the Tucson desert to Mount Lemmon's summit. On your way, you'll find incredible rockscapes, mountain forests, and canyons.
This scenic drive shows you just how uniquely diverse Arizona's scenery changes compared to other places in the world. The flora and fauna you'll encounter also reflect this diversity, so keep your camera ready to capture everything from the saguaro cacti in the Sonoran Desert to the beautiful firs at Mt. Lemmon's summit.
Take it slow and plan a picnic or a camping trip to soak in the experience fully. Also, be sure to bring some extra layers of clothing. When you get to the top of one of Arizona's "sky islands," aka mountains, the temperature can be up to 25 degrees lower than the bottom of the mountain.
4. Oak Creek Canyon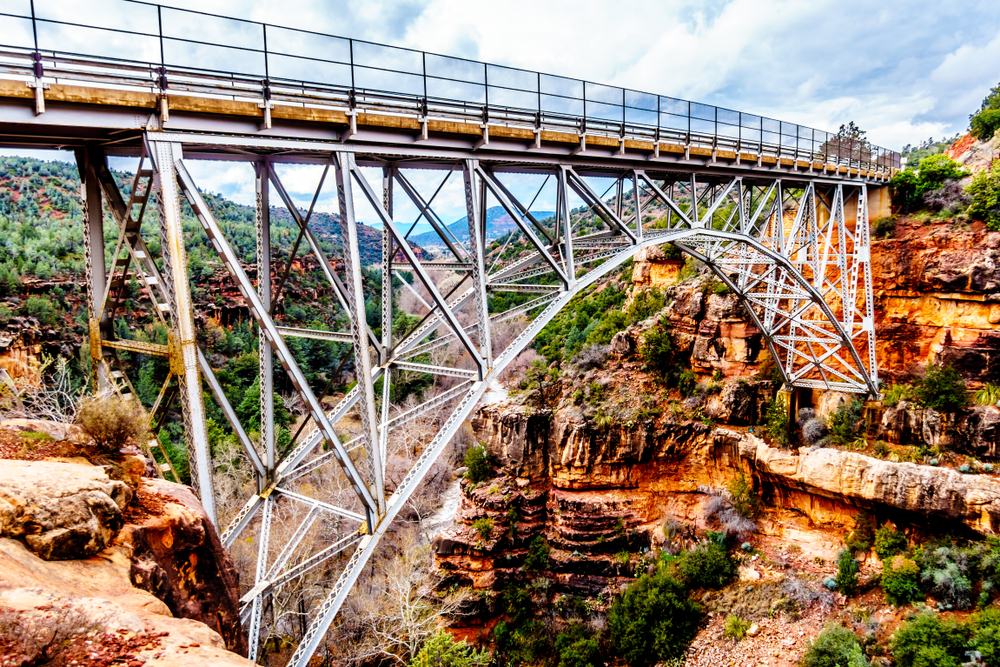 In Sedona, Arizona, the Oak Creek Canyon Scenic Drive offers 27 miles of ponderosa pine country. You'll also sample red rock country and the beautiful waters of Oak Creek Canyon.
The drive begins near Flagstaff and finishes in Sedona's beautiful small town, where you can still get excellent views of red rock formations and do some shopping at local art boutiques.
This scenic drive takes you through a gorgeous ponderosa pine forest. These tall, straight pine trees with thick trunks have a fragrant orange bark that smells like butterscotch or vanilla. When you can safely stop to admire this tree, make sure you smell its bark for posterity.
There are a few stops along this road to allow you to take pictures. The Oak Creek Vista Point gives you an excellent view of Oak Creek Canyon. If you want to take a break with a picnic, there are also two campgrounds along the road with picnic tables.
If you have the time, you need to stop by Slide Rock State Park, a must-see swimming area in Arizona. A natural waterslide made of slippery rock and the creek's natural water flow draws in many visitors each year. Slide Rock Market also sells snacks and other travel provisions at this park if you forgot to pack any necessities like sunscreen or a swimsuit.
This is a popular drive, especially in the summer, so plan accordingly. Slide Rock tickets and Campground spaces are limited, so reserve yours in advance if you plan on going on a summer weekend.
5. Sunset Crater & Wupatki National Monuments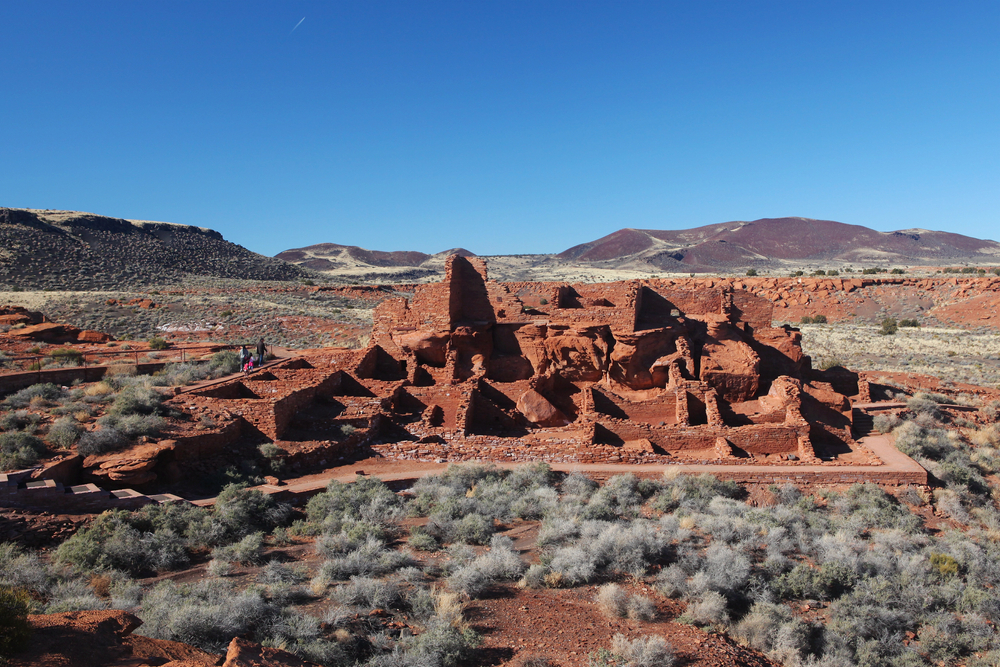 If you are a fan of geology, then you need to go on this 35-mile scenic drive. The Sunset Crater drive begins 10 miles north of Flagstaff, taking you through the volcanic fields around Sunset Crater and then toward the ancient ruins of Wupatki.
You'll find many stops where you can take pictures and relax, such as Sunset Crater Volcano National Monument. At this place, you can get out of your car and see the lava fields and cinder cones firsthand along a trail.
As you continue along the drive, you'll get excellent views of the Painted Desert, where there are colorful rock formations. There is also a stop at Wupatki National Monument, where there are impressive ruins from an ancient native American civilization. It is still a lesser-known national park that doesn't have as much traffic as other parks in Arizona, so go and see it before it gets crowded.
This drive is gorgeous around the year, so beautiful in all seasons; you'll enjoy it no matter when you go. When you need to take a break, have a picnic at one of the many rest areas along the drive.
Find Car Insurance in Arizona
If you're looking for cheap car insurance in Mesa that can cover your vehicle before you go on a scenic ride, then give Oasis Insurance a call at (800)-330-5190. Our independent insurance agents look forward to showing you some awesome rates from well-reputed companies!