When you own a boat, you can enjoy time on the water in your free time. There's nothing like the freedom and relaxation you feel on a boating day when there's nothing else on your agenda. While this pastime is fun and memorable, it also comes with some risks. Thankfully, you can mitigate some of these potential dangers by getting boat insurance coverage from an Arizona boat insurance company like Oasis Insurance.
Here are some important boating safety tips to make sure you have the safest time on your watercraft. With just a few precautions taken in advance, you can ensure everyone enjoys the day with peace of mind.
Get Boating Insurance
Although Arizona doesn't legally require boaters to carry boat insurance, having a boating insurance plan is highly advantageous. You know that driving without insurance leaves you unprotected in case you're at fault for an accident, so why would you allow this risk at the lake or bay?
With a boating insurance plan, you'll get valuable coverage for collision damage, bodily injury liability, property damage liability, protection against uninsured boaters, personal property coverage, and medical payments. These policies are similar to the items you have in your car insurance plan, which essentially protects you from paying the entire bill if you get into an accident on the water.
If you own a watercraft, it's a good idea to ensure you won't be left with stacks of bills if an accident happens. With boat insurance not being legally required, the risk of being hit by someone not carrying a plan is higher than in your motor vehicle.
To find a plan that works for your budget and watercraft, talk look for an insurance company that can help you compare rates from several companies and tailor a policy to your needs.
Keep a Boat Safety Kit on Board
When you're out on a boat, emergencies can happen unexpectedly. For instance, the weather can suddenly turn despite the forecast, or a child might slip on a rock when you dock the boat for a swimming outing.
Changes in weather and injuries can steer you off course, and injuries can necessitate speedy first aid. If you have a boat safety kit on board, then you won't have to worry about trying to make it back to shore to get immediate help for a minor injury. Keep this safety kit on board at all times.
What's in the kit? Here are a few items that experts suggest you keep on board:
First Aid Kit: This should be a medical-grade first aid kit with all the bells and whistles, from bandages and disinfectants to emergency suture staples. When you prepare for the absolute worst, you won't be afraid of any scrapes or cuts that happen when you're out exploring.
Fire Extinguisher: It's ironic to think that there would be a fire on a boat that's surrounded by water, but fires can happen on board. If this happens to you, an extinguisher can put out dangerous situations like this as soon as possible.
Flashlight: In best practices, you should time your outings to return before the sun sets, but if your boat stalls, you should have a source of light to help you find necessities around your boat.
Rope and Life-saving Device: Ropes are useful for securing your watercraft and tying down loose items when strong winds arise. You can also use them for pulling people out of the water, especially in conjunction with a life-saving device.
Leak Protection: If a leak happens unexpectedly, some handy duct tape can temporarily stop the situation from escalating. A bucket can also buy you time if water enters your boat.
Waterproof Whistle: This device makes the official signal call for help while on the water. It is a must-have in case you are stuck and need help. If you don't have this item, you can also use a mirror to reflect light to signal for assistance.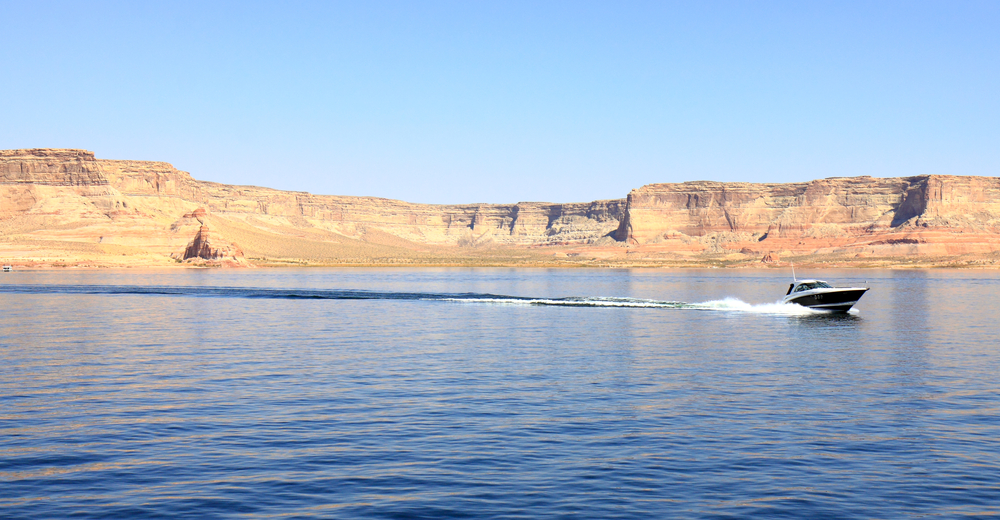 Let's Talk About Life Jackets
Life jackets should turn an unconscious person face-up and keep their body temperature as stable as possible. Every boat by law should have one Coast Guard-approved life jacket per boat occupant. In Arizona, all children 12 years of age and under must wear a life jacket at all times.
The life jacket should accommodate your height and weight. If you have any questions about what life jacket is the safest for you, consult the Coast Guard's official resources on life jacket selection and fitting.
Take Advantage of Free Checks and Training
At the beginning of every season or whenever you feel the need, take advantage of the free vessel checks from the U.S. Coast Guard Auxiliary and the United States Power Squadrons. These are free, and you don't get in trouble if your boat doesn't pass. However, you'll know if there are any issues and if your vessel is seaworthy.
The Boat U.S. Foundation gives free online boating safety courses that are state-specific. The U.S. Coast Guard also offers online and hands-on classes that teach you how to operate a boat safely.
You'll learn things like proper anchoring and docking procedures, how much is too much before you overload the boat based on its capacity restriction, which can make the boat imbalanced. They will also teach you how to check for harmful fumes like carbon monoxide in enclosed spaces.
Find a Boating Insurance Plan With Oasis Insurance
At Oasis Insurance, we can find comprehensive boating insurance plans for all kinds of watercraft, including fishing boats, sailboats, paddleboats, leisure crafts, yachts, jet boats, bowriders, ski boats, cuddy cabins, pontoon boats, and more.
If the watercraft in question isn't on the list above, call one of our agents at (800)-330-5190 to get more information. You can also find us online or at one of our offices near you. We look forward to assisting you with all your boating insurance needs so you can have a safe and fun time on the water.