Don't you just love Arizona? When the rest of the country is still freezing, we get to enjoy sunshine and chill by the pool. Pool safety, however, is no joke. Let's look at 10 pool safety tips, including proper home insurance liability coverage, to make sure your pool season stays relaxed and fun.
1. Pool Safety Tips: Are Lifeguards Really Important at Your Pool in Arizona?
Yes. If you are at a public pool or a pool at a club, make sure that you can see lifeguards available (and that the pool follows safety ratios regarding the number of swimmers to lifeguards). If you are at your own pool or another private pool, make sure that an adult who is a good swimmer (and is not distracted by other activities) watches over everyone.
2. Pool Safety Tips: Is Home Liability Insurance Part of Pool Safety?
Yes. Just like insuring your car, it is critical to make sure you have proper liability insurance in Arizona that will cover the use of your swimming pool. Owning a pool comes with inherent risks. Even when people are doing their best to be safe, it is possible someone could be injured or killed in or near your pool.
Liability protection is a standard part of a typical homeowners insurance policy, but because a pool can increase your liability risk, you may want to consider increasing your coverage. Home liability insurance can help cover the costs of legal and medical bills in the event of an emergency. It's important to speak with an insurance advisor to learn about liability insurance that will cover your pool.
3. Pool Safety Tips: Do Most People Know What Drowning Looks Like?
No. It is easy to see someone drowning and not recognize that they are in a life-threatening situation. Most of us have only seen drowning depicted in movies or on TV. Most drownings are silent, not waving of hands and yelling.
To improve pool and spa safety, the U.S. Consumer Product Safety Commission (CPSC) launched Pool Safely: Simple Steps to Save Lives, a national public education campaign to reduce childhood drownings, submersion injuries, and entrapments.
4. Pool Safety Tips: Is It Ever Okay to Run by a Pool?
No. It's just too easy to slip, get injured, and perhaps fall into another person or the pool while injured. Make sure that the adults by the pool model safe behavior by walking instead of running by the pool. They need to find safe ways (of which you approve) to be the fun adult — like buying the whole crew ice cream on a hot day or planning a parent-approved Arizona road trip.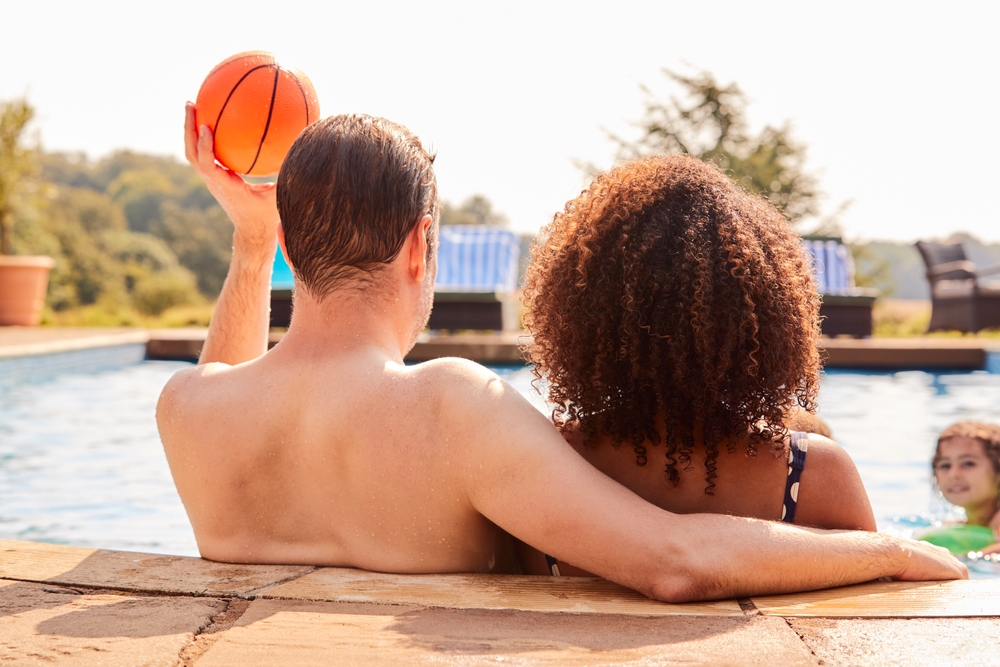 5. Pool Safety Tips: Should You Always Swim Sober?
Yes. A cold beer may look refreshing on a hot Arizona day, but if you indulge, stay out of the water. Even one drink can begin to impair both your decision-making abilities and your motor skills, both of which are key to safe swimming. If you choose to drink beside a private pool, also make sure that there is a sober adult to look after any kids or beginning swimmers. Drinking by the pool is like drinking and then getting into a car. You need to know that you have someone sober behind the wheel.
6. Pool Safety Tips: Do Kids Need a Parent at the Pool?
Almost always. Unless your child is a good swimmer and you know there will be a lifeguard on duty, you will want to make sure that a parent or trusted adult caregiver will be there with them.
If you are swimming at your private pool, make sure you have the requisite home insurance to cover any incidents.
7. Pool Safety Tips: Should You Put a Life Jacket on Little Ones in the Pool?
Possibly. Check with your pediatrician to see what their advice on this is, but if your child is a baby or a toddler, it is a great idea. Even if you are holding a baby or toddler in the water, they can slip (little ones are wiggly!) and be out of your arms and under the water quicker than you would expect.
8. Pool Safety Tips: Is Shallow Water Safer Than Deep Water?
Yes and no. If you are an able-bodied Arizonan who can stand up and have your head and shoulders out of the water, that is safer than being in deep water. But the reality is that people can drown in less than an inch of water if they are very young or become incapacitated. Even if little kids stay in the shallow end of the pool, they need to have close supervision (and good swimming and floating skills if possible).
9. Pool Safety Tips: Can You Play Music by the Pool?
Only if it is quiet. You need to be able to hear as well as see all the swimmers to help keep people safe. Most music will be loud enough that it will be a distraction for lifeguards, adults, and kids. Keeping voices by a pool to a conversational level too will help lifeguards and others distinguish between fun and danger. This doesn't mean that you can never play Marco Polo but use common sense about voice levels. Keep those Arizona pool parties safe!
10. Pool Safety Tips: When Should You Take Swimming Lessons?
As early as you can (with "brush up lessons" as necessary). Learning to swim is a great skill to have — it's one of the few things that you can learn that could save your life or someone else's life. Check out your local Arizona YMCA or the local neighborhood pool for swim lessons.
To learn more about affordable Arizona insurance to give you the coverage you need for your home, pool, and more, visit Oasis Insurance or call us at 800-330-5190 today!