Headed off to college? Before you go, there are a few things that every Arizona college student should know.
Now, these aren't the kinds of things you'll find in your textbook. Instead, we'll be reviewing car insurance secrets that other carriers might not tell you.
With this information, you can both save money and get better insurance coverage. Keep reading to discover the secrets behind great car insurance for college students!
Getting Your Own Insurance Policy
One of the biggest questions you'll need to answer is this: do you actually need to get your own insurance policy?
When they head to college, most young students are still on the family insurance plan. And whether you can stay on that insurance or not depends on your insurance carrier and your car.
For example, most carriers will let you stay on the family plan if you drive the same car you have previously been driving. But if you buy a new car for college, especially if your name is on that car's title, you may have to take out a policy in your own name.
There Is Such A Thing As Too Much Coverage
To stay on the family insurance plan, most college students end up driving their first car to college. If this sounds like you, then it's essential to take a long and hard look at your vehicle to determine if you have too much coverage for it.
For example, many people have insurance policies that combine liability coverage (legally required in Arizona) with collision coverage (which helps pay for your car repairs after an accident) and comprehensive coverage (which provides protection against things like theft and vandalism).
If you have all three, this is known as full coverage insurance. But if you drove an older car to campus, then you should consider reducing coverage. That is because you may end up paying more in premiums over the next four years than it would be worth it to buy another older car.
Ask About Student Discounts
Many drivers don't realize that the best way to reduce their car insurance premiums is to contact their insurance carrier and ask about discounts. And if you are a college student, it's important to ask your insurance company about student discounts that may be available.
The most common type of discount is the good student discount. This is a discount based on academic achievement and may require you to show the carrier proof of a good college GPA (usually 3.0 or higher) or proof of a high SAT or ACT score.
Boost Your Credit
Getting a discount is one quick way to lower the cost of your car insurance. There are other ways, but some of them may take a bit of time for the average Arizona college student.
For example, your insurance carrier looks at certain factors before determining how much you will pay for car insurance. One of those factors is your credit score. And if you make an effort to improve that score, you can effectively lower your premium.
It can be tempting to use your credit card for expenses like food and textbooks. But try to pay it off each month to boost your credit and avoid sneaky debt.
Special Kinds of Insurance
Earlier, we mentioned the three primary types of insurance, including liability, collision, and comprehensive insurance. But your carrier likely offers other special kinds of insurance, including MedPay coverage and uninsured/underinsured coverage.
How can you tell whether you need the additional coverage? The easiest way is to consider how often you will be driving and how safe the area around the campus is. If you frequently see crashes, then you may want the additional coverage of MedPay. And if you're worried about fellow students driving without insurance, uninsured/underinsured coverage can help keep you safe.
However, if the area around the campus is safe, and especially if you will be taking public transit to many locations instead of driving, this additional coverage may be a bit too much.
The Right Type of Car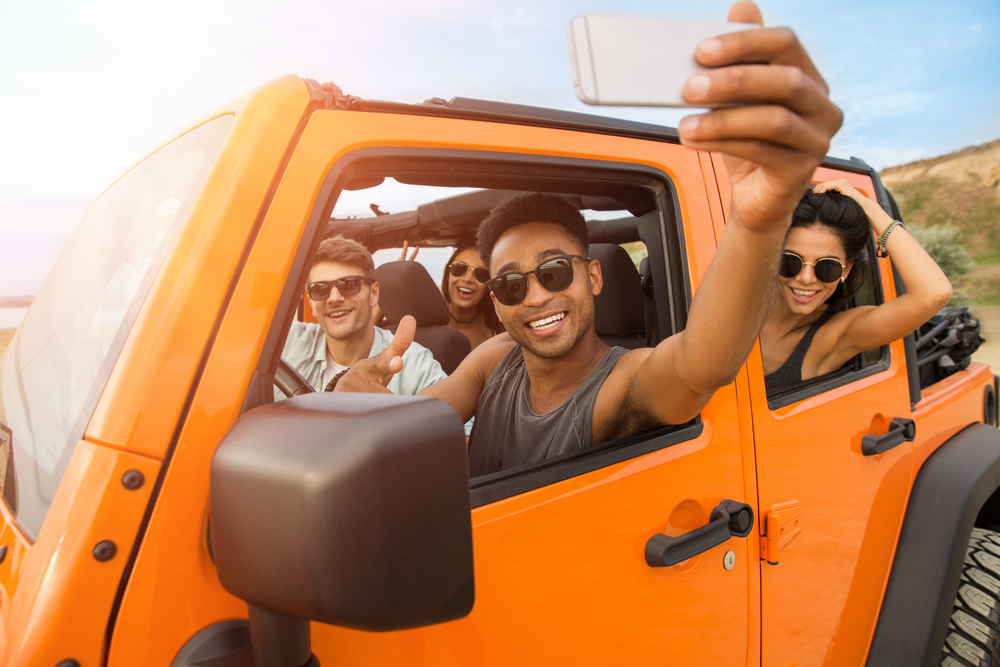 If you had a car in high school, it might have been an older vehicle. Many in this position hope to get a new car before heading to college. And others will be getting a car for the first time. But if you are going to get a new car, keep in mind how the type of car can affect your insurance.
Generally speaking, sportier cars command a higher insurance premium. Similarly, any exotic vehicle will be expensive to insure because such a vehicle will be harder than usual to repair after an accident. In some cases, even the paint job can affect the cost, with red cars sometimes being more expensive to insure.
Long story short? Being selective about your new car may mean saving a lot of money on your car insurance.
Compare Prices Each Year
It is a common misconception that you should keep the same car insurance carrier from year to year. In fact, if you pay for your insurance monthly, then you effectively change insurance companies whenever you want to.
But why would you want to? Simple: switching carriers is one of the best ways to get a lower premium. And when you're a college student, every dollar you can save each month goes a long way!
Before switching, make sure you shop around and get quotes from multiple companies, and this ensures you get the best plan and best price.
Pay Early and Save
Most students pay their car insurance by the month to save money. But what if you could save more money by paying for it all at once?
If you (perhaps with the help of your parents) can pay for your car insurance in a larger chunk, you can get a discount. This usually means paying for six or twelve months of coverage all at once.
Paying such a bill upfront may not be an option for everyone. But if you can make the payment, you can save quite a bit versus simply paying by the month.
College Students: Get the Best Car Insurance In Arizona
Now you know the most important car insurance secrets every college student should know. But do you know where to find the best car insurance in Arizona?
Here at Oasis, we are here to protect you through these difficult college years. Get started by getting a car insurance quote online. Or feel free to come to the nearest local office. Or you can save the drive and give us a call at 800-330-5190.