There are numerous things about the Phoenix area that make it wonderfully unique including the enchanting aroma of Southwestern cuisine, championship-style golf courses, and majestic mountain ranges. All those amazing activities create a magical place that over 1.5 million people love to call home. Learning how to protect your home if you are fortunate enough to be a current or future resident of such a spectacular American city is equally important. Just like the area itself has plenty of nuances, so does homeowner's insurance in Phoenix.
Owning an Uninsured Home in Phoenix 
Arizona does not mandate that you have home insurance in Phoenix. There's also no law on the books directing you to breathe air and eat food. Don't be fooled. Just like you need oxygen and sustenance, you need to protect your biggest asset, which is likely your home.
First of all, if you have a mortgage, your lender will require you to hold a home insurance policy. Also, Arizona averages several hundreds of millions of claims every year. Do you want to be left unprotected when something unforeseen happens?
The freedom to choose whether or not to insure your home might sound like justifiable liberty, but it's unwise. All it takes is one bad weather event, break-in, electrical problem, or plumbing disaster to make being uninsured a tragic and costly mistake.
Home Insurance Discounts are Available for Installing Security Systems in Arizona 
Fortunately, Arizona has a lower premium (around $850) than the national average (around $1,200). Unfortunately, that doesn't mean an urban area like Phoenix doesn't have its fair share of crime, just like any other big city in America.
You can protect your home from burglary by installing simple security systems. At the same time, you will reap the rewards in the form of discounts on your Phoenix premium.
The security system you choose doesn't have to be elaborate. Some state-of-the-art setups can cost thousands of dollars. You can select a much cheaper alternative that will still protect your home and help you save. Shop around, and the right choice for your security system will become clear.
Is Flooding a Possibility in a Dry Region Like Phoenix? 
It's no surprise that the dry air and soaring temperatures of Phoenix don't comprise a flood zone. However, the area is subject to flash flooding from monsoons. In fact, according to the FEMA, more than 25 percent of flood insurance claims come from properties not in an identified high-risk zone. But most homeowners in these areas are eligible for coverage at a preferred rate. Preferred Risk Policy premiums are the lowest premiums available, offering building and contents coverage for one low price.
When shopping for affordable home protection in Phoenix, you should ask about flood insurance. Because the potential for water damage to a property is technically less likely than those that sit in a flood zone, Phoenix residents can often get a preferred risk policy at a significantly lower cost.
At first glance, flood coverage can seem expensive. But as little as three inches of water can cause significant damage to your home. Not only can it introduce mold, but it can also destroy personal belongings and even initiate structural damage.
It's great to know that you're covered for water damage, but even better is to prevent it from happening. There are precautions you can take to ensure water doesn't become your worst nightmare. For instance, it's easy enough to routinely clean your gutters and storm drains to make sure rainwater flows away from your home, not in it.
Protecting Your Home from Wildfires in Phoenix, AZ 
From one extreme to the other. Not only should you take precautions against flood damage in Phoenix, but you should also understand that the intensely hot and dry climate can cause an outbreak of wildfires, particularly during the heat waves.
Wildfires are becoming more prevalent than ever before, as the climate continues to become more extreme. Colder regions of the country are seeing more snow and more drastic cold spells, as warmer areas endure more high temperatures and increased danger for wildfires.
As long as a reputable and ethical company provides your renters' insurance or home insurance in Phoenix, your home should be covered if it happens to stand in the way of a wildfire. This might be the biggest reason not to take advantage of the state's willingness to allow uninsured homes.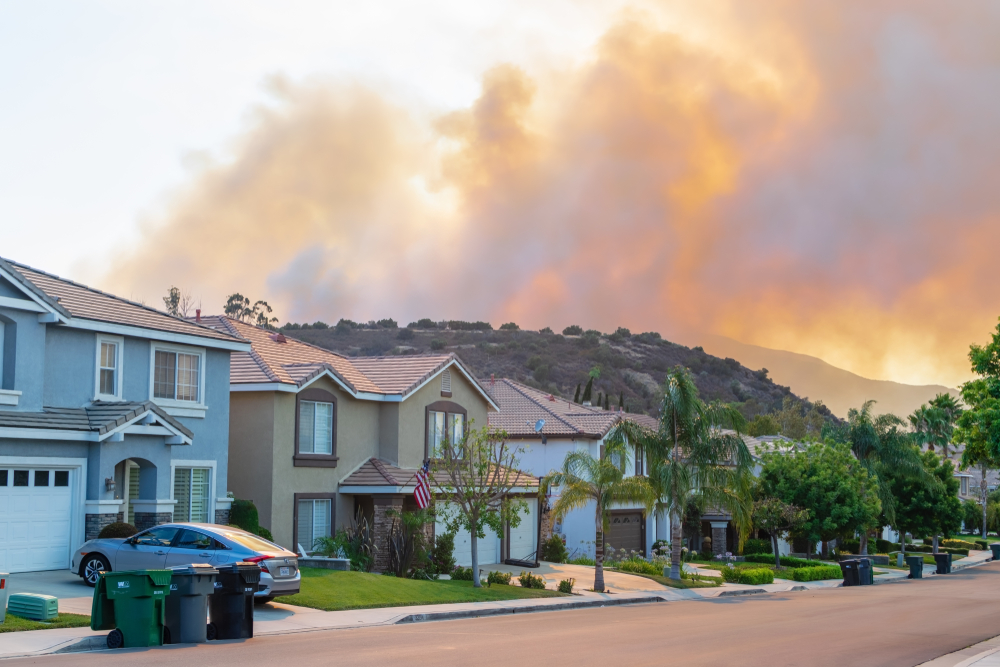 Achieve Peace of Mind with the Right Home Insurance in Phoenix 
If you're looking for the best homeowner's insurance in Arizona that meets all the requirements mentioned in this article, contact Oasis Insurance at 800-330-5190 or visit our website for a free home insurance quote today. You are also welcome to stop by one of our convenient locations.