With cultural attractions like the Arizona Museum of Natural History (containing full dinosaur skeletons) and the Mesa Arts Center (regularly showing musicals and contemporary art), Mesa, AZ can be a wonderful place to live. If you own a home in the area, you likely already know the numerous benefits of residing in its sun-drenched climate, with many options to escape the heat for fun and adventure. Hopefully, that residence is protected by the right home policy.
If you're at all unsure, now might be the right time to review your home insurance coverage. After thinking about their various coverage options, many people realize their situation has changed since they initially bought their policy: They are either over- or under-insured. The savvy homeowner will take a few minutes every year to determine if they need more or less coverage.
Improvements and Alterations May Cause a Need for New Home Insurance in Arizona
Inflation and mortgage rates are rising. As a result, many homeowners throughout the country are choosing to stay in their existing homes rather than looking to upgrade or downsize. This means more people are investing money in home improvements by remodeling kitchens and baths, adding an extra bedroom, finishing a basement, or even all of the above over an extended period of time. If you've done any renovating over the years, your property is likely worth more than it was before the work. As such, you may need to increase your coverage limits.
Even if you haven't made any improvements or alterations, the nature of real estate is for property value to go up over time. Therefore, the house you bought in Mesa five years ago for $300,000 might be worth $400,000 or more now. If you've made some renovations, the property could be worth even more. Your escalating home value might require a call to your insurer to see if the policy is sufficient.
Have You Acquired Expensive Items in Mesa that May Mean a Change in Insurance?
If you haven't examined your home policy in a few years, chances are you have items that require attention. New electronics, stunning jewelry, fancy appliances, and more expensive items tend to enter the premises every holiday season. The dollar amount of such items over a five-year period could be in the tens of thousands of dollars. Does your insurer have you covered for those additions?
Whether you live in Mesa, Nearby Tempe, or Red Mesa (way up in the northeast part of the state), your personal belongings might have grown exponentially over the years. When you first bought your humble abode, it's likely you estimated the total contents of the home at a certain amount and were given a policy that covers those slightly more meager requirements. Today, however, that coverage may not be enough for the material possessions you've acquired.
Another thing to consider protecting is the growth of your income. If someone gets hurt on your property, they may hold you liable for a greater amount based on an increase in your net worth. You can, however, elect to purchase more liability coverage to reduce the odds of an unfortunate accident leading to a loss of income.
Swimming Pools in Mesa, AZ Call for More Home Insurance
With an average daily high temperature of 87 degrees Fahrenheit annually and 106 degrees in July, many residents see a swimming pool as a must-have in their backyards. Air conditioning is great, but sometimes you need to go outside and enjoy a dip in the water.
If you have such a luxury (necessity?), you will likely play host to more than one or two pool parties every year. There are two types of these festivities — the kid party and the adult celebration. If you're hosting either event, make sure your liability coverage is comprehensive, as kids are naturally prone to accidents, and adults with alcohol and water are an equally dangerous mix. If someone gets hurt, you could be left footing the medical bill unless your policy has you covered.
Swimming pools aren't the only potential hazard lurking in a backyard. Trampolines are notoriously dangerous objects of amusement, especially when other kids from the neighborhood come over to play with your children. While your sons and daughters may know how to safely navigate a trampoline, other, less experienced children might not. Check that liability before it's too late.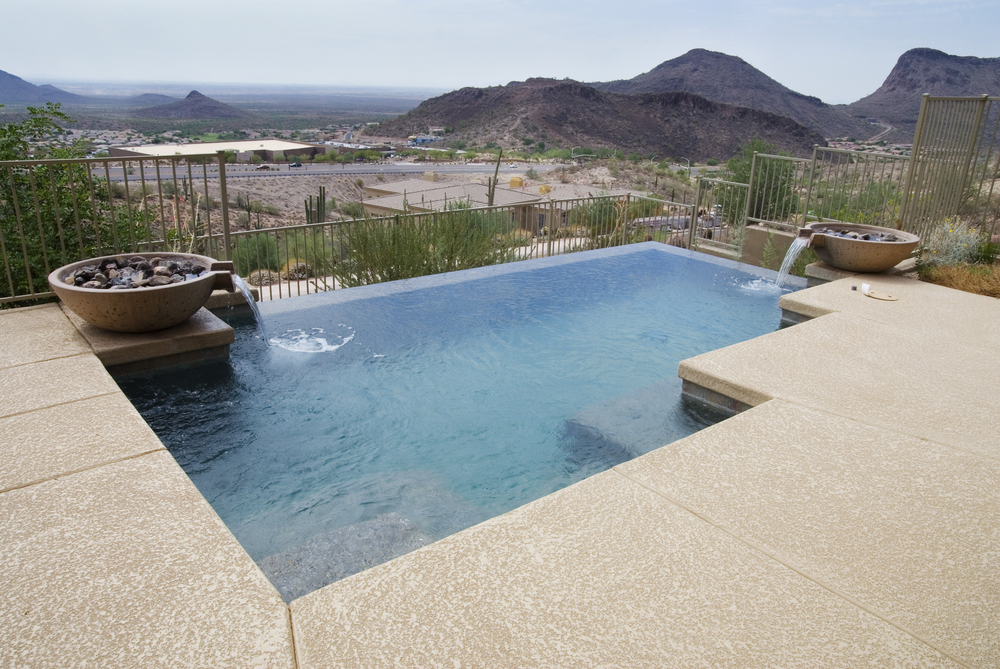 New Security Features May Lower Arizonians Home Insurance Premium
Speaking of safety, cameras, smart doorbells, and state-of-the-art security systems are not only a good idea to protect your home and shield the family from harm's way, but also a good way to get a reduced premium.
Insurance companies understand when they need to fulfill a claim request, but they would rather reward you for doing all you can to prevent one from happening. Security features are beneficial in a variety of ways: they protect the home, they help the provider with fewer claims, and they give you a return on investment in the form of a reduced premium.
What about Other Eligible Discounts for Home Insurance in Mesa, AZ?
Discounts on homeowner's insurance are not exclusively relegated to security features. There are many more ways to save on your premium. Life events such as getting married, quitting smoking, or retiring could entitle you to a discount. Other projects around the house, such as updating the electrical or plumbing systems, could also reduce your monthly payments. Bundling your home policy with your car insurance may entitle you to significant savings.
The only way to know exactly what discounts you are eligible for is to call your current provider and ask them. Checking in to see what discounts are available every time your circumstances change is also a good idea.
Find Affordable Home Insurance in Mesa Today
If you suspect your current home insurance provider in Mesa isn't serving you in the best way possible, contact Oasis Insurance at (800) 330-5190, come to our locations or visit our website for a quick quote for home insurance online. It will only take a few minutes. A member of our friendly and expert staff will be happy to answer any questions you have and provide a quote for a customized policy that fits your unique situation.