Before you hit the road, there are several things you should keep in mind that will help make your trip a safe and enjoyable one for you and your pet.
Most importantly, make sure you have affordable car insurance before you head out to protect yourself, your loved ones, and your pet.
When road-tripping with your furry friends, keep these six things in mind:
1. Ensure Your Pet Has a Clean Bill of Health
Spending hours traveling in a car can be stressful for pets, especially if they are older and have some health conditions. It's a good idea to visit the veterinarian before you set out on the open road to make sure your pet has a clean bill of health. If they aren't in good health, it might be a better idea to leave them at home with a pet sitter than risk subjecting them to the stress of traveling.
You should also make sure all your pet's vaccinations are up to date and that they have been treated for fleas and ticks, especially if your road trip involves any camping or hiking. Your vet can recommend medications that might help your pet with motion sickness or anxiety during the ride.
Don't forget to take a copy of your pet's vaccination record with you when you head out on your trip. You may need it if your dog or cat gets sick on the road or needs to be boarded for any reason during your travels.
The thought of your pet getting lost is unnerving, but you should be prepared if the unfortunate happens. All pets should have ID tags or be microchipped with your current contact information so you will have a better chance of finding them if they get lost.
2. Pack the Essentials
Having a separate travel bag specifically for your pet is a good idea. You can pack essentials like the leash, food, treats, medications (if needed), pet waste bags, and favorite toys altogether, so those things are easy to find when you need them.
Dogs are able to go the bathroom outside pretty easily, but it's a different story for cats. For cats, you'll need to get a disposable litter box. You might also want to put newspaper or disposable puppy pads on the bottom of their crate in case of any accidents. Remember, cats typically like some privacy when they use the litter box, so make sure the box is somewhat secluded.
3. Keep Your Pet Safe and Secure
Letting your pet roam around the car or hang out the window can have dangerous consequences. According to a AAA survey, 65% of dog owners admit to engaging in at least one potentially distracting activity while driving with their dog. It only takes two seconds of distraction from the road to double your risk of getting into an accident.
The best place for your pet to travel is in the back seat. Ensure that your dog or cat is secured in a pet carrier or pet harness belt when traveling. Pets that get anxious during car rides may feel more at ease in a carrier. These should have adequate air ventilation and be secured using the seat belt.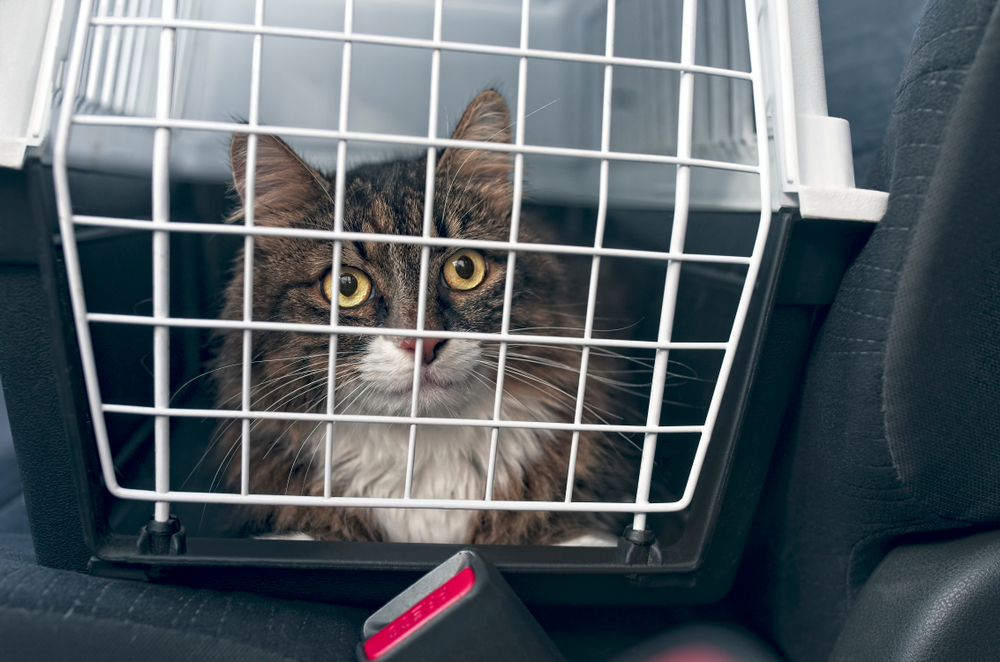 Don't ever leave your pet in the car unattended, especially on hot days. Although 80-degree weather may feel nice outside, temperatures inside a locked car can reach over 100 degrees, proving deadly for your pet. Pets, like people, can suffer from heatstroke. Being exposed to high temperatures for some time can shut down their organs and lead to death.
Letting your pet stick its head out of an open window is also a bad idea. They may look so happy doing so, but they can also be easily sucked out of the car by the force of a passing semi-truck. Dogs should also never ride in the bed of a pickup truck. Over 100,000 dogs die each year from riding in the back of pickups, the American Humane organization estimates.
4. Take a Few Pit Stops Along the Way
Just like you need to take regular breaks from long car rides to stretch your legs and go to the bathroom, so do your pets. Both you and your pet would enjoy taking a pit stop every couple of hours you are on the road. Taking a 15- to 30-minute minute break can help break up the monotony of the trip. When you grab a bite to eat, make sure you also give your pet some food and water.
Try to find an area to stop to take your dog for a little walk (on a leash, of course). Cats can also be trained to walk on a leash if you plan on traveling a lot with them.
5. Find Pet-Friendly Hotels
Traveling with pets will require some preplanning because not all hotels accept them. Before you head out on your trek, check to find pet-friendly accommodations along your route and make reservations. Be aware that some locations will charge additional fees for pets.
If you stop to eat, don't leave your pet unattended in the car. Instead, find restaurants where you can take the meals to go or pack your own snacks for the trip.
If you're hoping to take your dog with you on hikes at your destination, make sure you check to see if dogs are allowed at the location. Many state and national parks have regulations on dogs.
Make Sure You and Your Pets Are Protected on the Road
Pets love to be part of the family, and therefore they would love to be included in your road trip. But, like caring for a child, you will need to pay attention to their needs.
Another essential for a road trip with your pet is the right car insurance. Oasis can help you search, compare, and find a policy that fits your needs and budget. Start your free Arizona car insurance quote online, over the phone, or at one of our offices near you.