What if you got in a car accident in Arizona today? Would you know the next steps you need to take?
Every Arizona driver is legally required to have car insurance to help pay for the damages and injuries after an accident. Despite this, most drivers don't know exactly what to do after a car accident. And not knowing which steps to take next can make your bad day that much worse.
Are you wondering what steps you'd need to take if you got into a car wreck today? Keep reading to discover exactly what to do after a car accident!
What to Do After a Car Accident in Arizona: Check for Injuries 
Immediately after a car accident, your first step is quite simple. You need to examine yourself, your passengers, and anybody else involved for any injuries. 
It's one thing if your car or some property is damaged. In most cases, damaged vehicles and property can be repaired or replaced. But if you are injured, it's important to call 911 for help. If you are unable to do so, try to get someone nearby to call for help on your behalf.
Remember that if you are injured, it's important not to move around very much. Instead, try to sit still and wait for medical help.
Check On Passengers after a Car Accident 
If you have any passengers in the car, your next step should be to check on them. Make sure they do not have any major injuries. If they do have any injuries, call for medical help as soon as you can.
Should you and any passengers be free of injuries, you can move on to the next step.
After a Wreck, Get To a Safe Area 
The next step may not be possible, depending on the severity of the car accident. But if possible, you should move your car off of the road. Depending on where the wreck occurred, this may mean moving the car to either the shoulder of the road or the sidewalk.
Doing so will effectively get your vehicle out of the way of other traffic, so your wreck will be slowing fewer people down. And getting out of the flow of traffic reduces the odds that you or your car will be hit by another vehicle on the road.
Call the Arizona Authorities to Report the Crash When Necessary 
Earlier, we touched on the fact that you need to call 911 right away if you or your passengers are injured. Once you make sure everyone is fine and have moved to a safe area, you need to make the decision about whether to call the police about the accident.
Arizona has laws that explain when you must call the police after a car accident, but this is usually required only when someone is injured or killed or when there is property damage of at least $1,000. However, drivers usually do not have to call in minor "fender benders," and you can usually just make arrangements with the other driver. Remember, though, that your insurance company might require a police report in order to proceed with any claim.
Exchange Info with the Other Driver after a Car Accident in Arizona 
If another driver is involved in your car accident, it's important to exchange information with them. This information usually includes their name and contact information (including mailing address, phone number, and email address).
It's also important for you to swap insurance information with the other driver. This includes the phone number for the insurance carrier as well as the carrier name and your policy numbers.
Keep in mind that both of your insurance rates are going to increase if you file a claim. If the car accident really was a minor fender bender, it might be both easier and cheaper to negotiate your own arrangement with the other driver rather than filing a claim.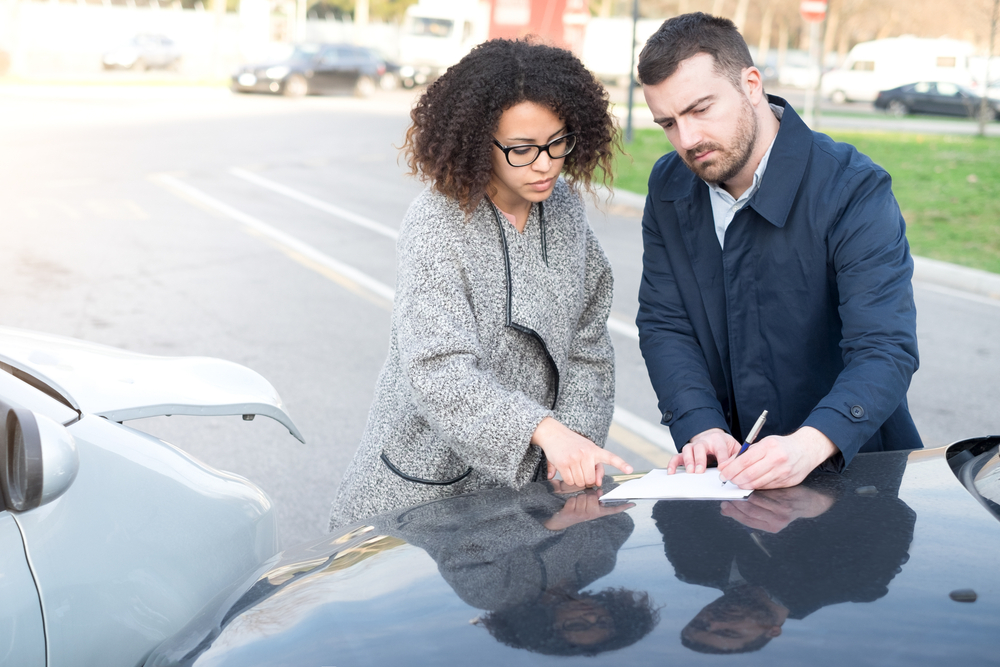 What to Do After a Car Accident: Start Collecting Information 
With any luck, you can come to an arrangement with the other driver, and nobody will have to file a claim. However, a good rule of thumb about car accidents is that you should always collect as much information as possible to help prove what really happened.
In addition to getting information from the other driver, write down details like where the accident occurred and what vehicles and/or property were involved. Write down the contact information of any witnesses who can help corroborate what happened. If any police are involved, write down their contact information and request a copy of the accident report.
Most importantly, you need to take extensive photos of your car and any other vehicles or property involved. Photos should include tag numbers and should help you document the damage that was caused. In the rare case that you end up in court over a car accident, the information you have collected can help you tell your side of the story.
File Your Claim after a Covered Accident 
If you decide to file a claim, the next step is to contact your insurance company. We recommend calling them via phone at the scene of the accident. An insurance professional can help to calm you down after an accident and can walk you through the steps required to file your claim.
Another reason to contact your insurance company right away is that they will need to investigate the damage to your vehicle. Inspecting the damage immediately after an accident helps the insurance company better understand what damage was caused by the wreck versus what damage was caused by previous accidents or even everyday wear and tear.
Finally, contacting your insurance company right away will make things easier for you because the car accident is very fresh in your mind. It may be much more difficult if you wait a long time and the details of your memory become fuzzier.
Get the Best Auto Insurance Online in Arizona Today 
The only real downside to filing an insurance claim is that it raises your rates. But what if you could actually lower your car insurance rates with the click of a button?
Here at Oasis Insurance, we take pride in offering the best policies at the most competitive prices, even after you have been in a car accident. To see how we can help you get a great car insurance policy, come get a free car insurance quote online. Or you can always come by one of our convenient local offices. Or just pick up a phone and give us a call at 800-330-5190.