Springtime in Arizona is the perfect time to hit the open road! As part of the many trips you might hope to take this year, it is a good time to "spring clean" your motorcycle insurance, and ask some questions: Are you paying too much? Do you have the right coverage? What are the precise terms of your policy?
Once you're sure you're covered for anything unforeseen that could occur on one or more of your riding adventures, it's time to think about where you want to go. Luckily, this fantastic section of the Four Corners in the southwest is abundant with beautiful views and breathtaking experiences. Check out some favorite road trips below.
Show Low from Route 60
The town of Show Low features a unique exploration of the white mountains and plenty of open roads to enjoy. Getting there by first jumping onto US-60 in Globe is a nice choice. This rural route will provide plenty of twists and turns and a great "feel" for any biker. Eventually, you'll find your way to Salt River Canyon, which offers fantastic views of the Arizona sky.
If you make the complete trip from Globe to Show Low, you'll log just under 100 miles, but there aren't many opportunities to refuel, nor are there many towns in between to offer food or services. The moral of this story is to pack well before you leave, and although it's an easy ride, you still want to ensure you're wearing proper protective gear.
Wondering how a town gets a name like "Show Low"? It's a pretty interesting story. We won't give it away, so you'll need to make the trip and ask a local resident to get the truth, or at least what everyone has embraced as the truth over the years.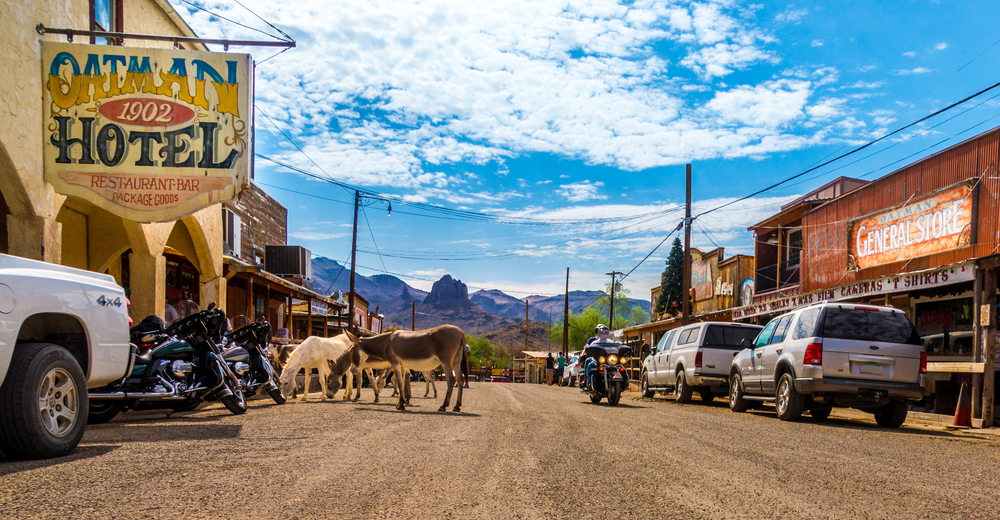 The Coronado Trail Scenic Road
If you're a newbie, the road formerly known as the Devil's Highway might not be the best choice. Some folks refer to its more infamous moniker because this section of what is now US-191 used to be known as Arizona 666. Another reason for that unsettling alias is that there are several rather severe ups and downs, along with sharp curves in the Coronado Trail Scenic Road terrain. Definitely ensure you have proper motorcycle insurance before jumping on this challenging trip.
Assuming you've taken more than a tricky ride or two, embarking on this journey will treat you to incredible views at over 5,000 feet in certain spots. Most of your journey will be through the Apache Sitgreaves National Forests, considered one of Arizona's best natural hiking, biking, and riding experiences.
Flagstaff via Route 89A
Springtime is especially pleasant for those visiting the higher altitude areas around Flagstaff. Milder temperatures tend to make for a spring blooming with colorful flowers and fresh mountain air. If you happen to be around on April 29, you'll have the opportunity to partake in National Astronomy Day at the Lowell Observatory. Why is that a big deal? Well, they did discover Pluto from there. And yes, it is a planet—a dwarf planet, technically.
Follow Route 89A from just south of Flagstaff to the red rock riches of Sedona, and you'll want to pull over several times to enjoy the sights of several state parks, forests, and cliffs that are not for the faint of heart. These steep drop-offs are gorgeous, but driving through this terrain will make you glad for your bike coverage.
It takes about three hours to cruise just over 100 miles until you reach the town of Wilhoit. As night falls, you'll be amazed at the star-studded night sky.
Tortilla Flat
Tortilla Flat is a popular trip for more experienced riders. Whereas the rest of that path may be fine for trucks with four-wheel-drive, you shouldn't travel it on a bike, nor should a beginner attempt most of this drive. You'll start on the Apache Trail, but soon the pavement ends. If you try to pass much beyond that, you'll need a dirt bike
If you take the right back roads to connect with the Beeline Highway, you'll cruise through the old Goldfield Ghost Town and Mine and Canyon Lake, as well as consistently memorable views for about fifty miles. Enjoy!
Find Affordable Motorcycle Insurance in Arizona Today
Before you head out on one of these beautiful rides this spring, contact Oasis Insurance at 800-330-5190, visit our website for a quick quote on motorcycle insurance or stop by one of our locations. Our expert service professionals are standing by to take your call and get you the best possible rate today!