Arizona renters insurance may not be at the top of your list when you are moving into a new apartment. However, even if your landlord doesn't require you to have renters insurance, it's the best way to protect your belongings. Renters insurance is worth the peace of mind of knowing your belongings are protected – and even more.
Here are a few things to remember when you're considering purchasing renters insurance for your new place.
1. What Is Arizona Renters Insurance? 
Renters insurance is an insurance policy that protects your belongings when you live in a rental unit or store your property in a temporary unit. Renters insurance typically also provides extra coverage in the form of liability protection and housing assistance if you need to relocate while your unit is being repaired.
An Arizona renters insurance policy gives you a payout if your belongings are damaged or stolen from your rented home. It gives you the money to repair or replace those items after filing a claim.
Renters insurance in Phoenix and surrounding areas is not required by law. Many landlords still ask that you get some kind of protection. It may even be required in your lease.
Renters insurance is similar to homeowners insurance, but it only protects your possessions. Homeowners insurance, on the other hand, also protects the structure of your home. Renters insurance is similar to home insurance in that it also includes liability insurance, to some degree, but without as many comprehensive coverages as homeowners insurance.
2. What Does Renters Insurance Cover in Arizona? 
Mainly, renters insurance covers your possessions. Renters insurance also covers you if you need to arrange living accommodations after an event that requires you to move or live elsewhere during repairs. It also offers a payout if someone gets hurt in your home and sues you.
Policy coverage varies, so it's important to read the entire policy before you buy. Renters insurance in Arizona typically covers:
Fire and smoke damage 
Storm damage from windstorms, lightning, and hail 
Water damage from leaks, overflow, and steam- and water-heating appliances 
Frozen plumbing, heating, and cooling systems 
Electrical damage 
Damage from the weight of ice and snow 
Volcanic eruptions 
Riots, vandalism, and theft 
Explosions 
Fallen objects 
Renters insurance does cover many valuables, including jewelry, though the extent to which those items are covered also varies.
3. Does Arizona Renters Insurance Cover Roommates? 
Renters insurance can cover roommates in Arizona, but we don't recommend it. Many policies let you add a roommate to your policy, but if your roommate makes a claim, it will go on your insurance record, even if your possessions didn't get damaged.
Your coverage can change if you have a roommate on your plan, especially since you need to know the value of your items as part of determining your premiums. A roommate can complicate that, so we recommend getting separate policies.
4. Will Renters Insurance Cover Pets in Arizona? 
Your pets are covered — but with caveats. You want to have renters insurance coverage to protect against liability. For example, if your dog bites someone, renters insurance makes it easier to cover any legal or medical expenses if necessary. However, if your pet bites you or destroys your possessions, your policy won't pay out, though it typically will for someone else's belongings.
Before you buy insurance, check to make sure your pet is covered. Many Arizona insurers have restrictions on certain dog breeds and won't cover Akitas, Rottweilers, Pit Bull Terriers, and several very large breeds, including Great Danes and Mastiffs.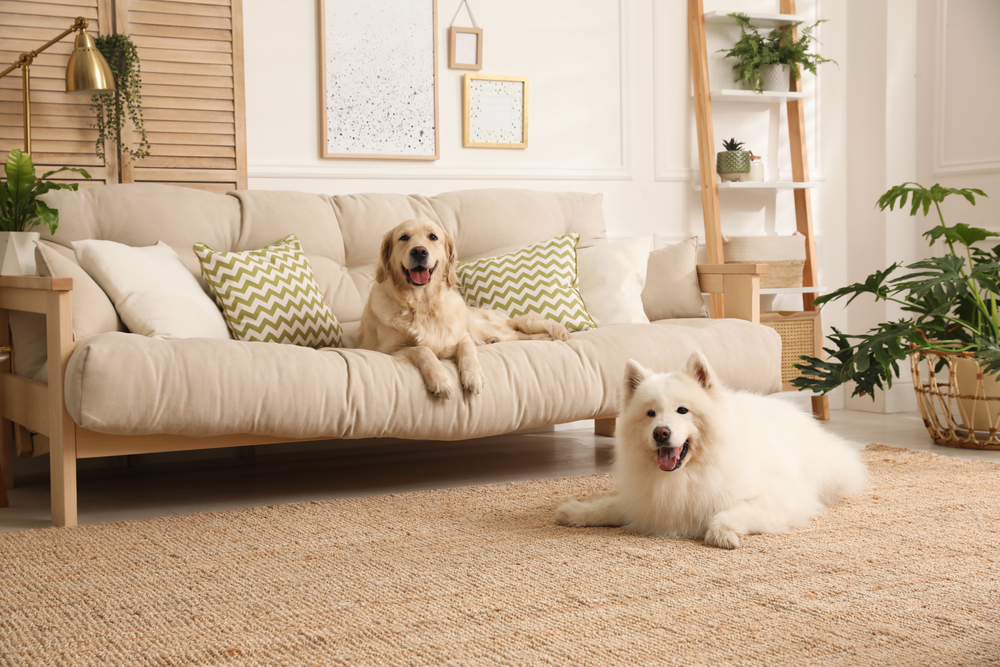 5. How Do I Know If I Need Renters Insurance? 
Most of the time, you should have renters insurance if you plan to move into or already live in a house or apartment you don't own. Renters insurance in Phoenix protects against events like theft, water damage, and liability. While you hope you won't have to deal with these issues, this coverage provides protection and peace of mind to lower stress and avoid paying out of pocket if something does happen.
6. How Much Does Renters Insurance Cost in Arizona? 
Pennies per day. The average annual cost for a Phoenix renters insurance policy is below $300. Your premiums depend on several factors, including your insurer and the value of your belongings. Before you buy, you need to know how much your possessions are worth. Without this inventory, it's difficult to determine payouts and premiums. The cost also varies based on location, the likelihood of certain events, and other factors.
7. How Do I Get Arizona Renters Insurance? 
First, find out what your landlord's insurance covers. Usually, it doesn't include your belongings, so you can start by researching renters insurance policies and comparing different companies.
Then, estimate the value of your property and possessions. You can get a quote from an insurance company over the phone, online, or in person. You can also work with a Phoenix insurance agent to help you search for the best renters policy to meet your needs.
8. What Does Renters Insurance Not Cover? 
Arizona renters insurance won't cover pests, terrorism, or natural disasters, including floods, wildfires, earthquakes, and tornadoes. Each policy differs beyond these events, but some won't cover very expensive items.
Make sure you explicitly ask about what your renters insurance policy covers, especially if you're worried about a particular event. Your policy usually has "named perils," which are events your policy definitely covers. Other insurers offer "open peril" policies that cover everything except what the policy specifies.
You can ask for a special rider on your policy to cover some items that are not typically covered, such as rare and expensive art.
9. Does Renters Insurance Cover Bed Bug Infestations? 
Renters insurance doesn't cover pest infestations of any kind — that includes bed bugs. If you have bed bugs, you'll have to cover expenses through other means, regardless of how the infestation happened.
Often, your landlord will cover pest control in the building itself. However, if you have an infection or other medical needs related to your pest problems, you are usually responsible for those.
10. Does Arizona Renters Insurance Cover Items Outside the Home? 
As long as the items belong to you, your policy covers them. Your coverage includes belongings in a storage unit or vehicle you own, as well as any events that happen while you're on vacation. As long as the event happens at a location you rent from or own, as stated in your policy, renters insurance covers your possessions.
Find Affordable Arizona Renters Insurance Today 
For the best and cheapest renters insurance in Phoenix, Oasis has you covered. Learn more about how you can get the right policy for your needs when you call (880) 330-5190, get an online quote, or visit one of our locations.