If you're about to rent your very first apartment, congratulations — you're about to experience a new sense of freedom. It's important to be prepared and know exactly how to get the most out of your rental. The following are some tips for first-time renters to make it go smoothly:
You want to underestimate your monthly income when budgeting for your first rental. That's because job or market changes, unexpected expenses, and other situations can arise at any time — and you don't want to be caught unable to pay your rent!
The 50/30/20 rule of budgeting states that you should spend 50% of your income on your needs, 30% on things you want, and 20% of your income on financial goals like investments and retirement accounts. For first-time renters, spending 30% of your income on rent is acceptable. Remember that this should include things like renters insurance.
You'd be surprised how little protection renters have when things go wrong. That's why it's important to get renters insurance. If there's a break-in, burglary, or fire, you need to know that everything you've worked so hard for — your furniture, computer, clothing, possessions, etc. — will be reimbursed.
Renters insurance also covers property, personal liability, and even temporary housing if you need to move out due to the original rental being condemned. Oasis offers great coverage in Arizona for first-time renters, protecting our customers from the unforeseen with generous coverage.
Your apartment should cover your needs, as well as any wants that fit into the extra space in your 30% budget. These may include things like walking distance to the bus or train station. You may need a place that allows dogs or that's in a wheelchair-accessible building.
Your wants might include things like granite countertops, an extra bedroom, a top-floor location, or an enclosed gym in the building. Make sure to look for your needs first — anything on top of that is just gravy.
Many apartments include things like garbage removal, water, and sewer. Others might require you to pay for all of these. You'll also probably have to pay a one-time initiation fee to certain utility companies like internet providers, etc. Know before you sign the contract.
You can expect your electric and heating bills to take up the largest chunk of your utility spending. Ask the landlord what the average utility bill is at different times of the year, preferably in the dead of winter and the hottest part of the summer. This will help you budget accordingly.
While you can use online features to narrow down your option, any apartment you're seriously considering deserves a walking tour. Pay attention to several things on your tour:
Is it in a good part of town? How quiet or lively does the neighborhood seem, and is that what you're looking for? Are there noisy spots like an airport, train track, or interstate nearby?
What is the condition of the apartment building? Is the place quiet or rowdy? Does it look like the landlord is taking care of upkeep?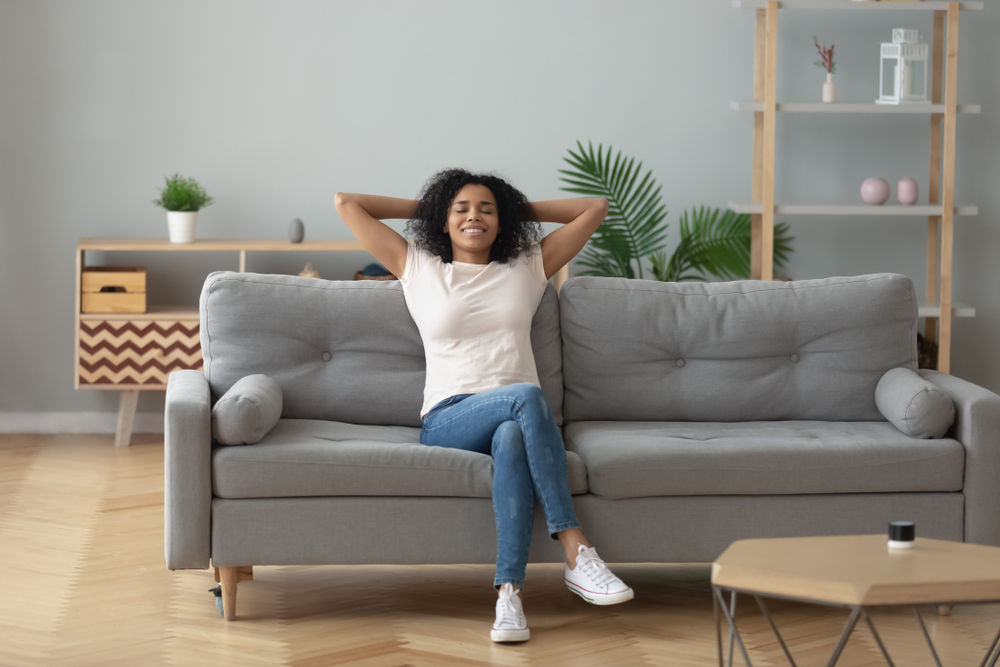 First impressions matter here, so use your senses. Do you smell anything unpleasant like smoke or musty mildew? Does the apartment look clean? Is there any damage you could be blamed for if you take it over? Don't be afraid to ask as many questions as you have.
1. What Is the Parking Situation?
If you own a car and are in an urban area, know how, when, and where you can park. You'll quickly get overwhelmed if parking takes up a lot of mental bandwidth. Ask the property manager the following questions:
Does the parking lot fill up?
Can visitors park here? Do they require guest passes?
Will you have your own assigned parking spot?
What happens if someone parks in your spot?
What is the cost of parking?
2. Figure Out What Steps You'll Need to Take to Rent It
Generally, the application process consists of completing an application, consenting to a credit check, and paying a fee for the application. You may also need to pay a security deposit of one month's rent.
You usually won't have to wait long to know if they approved you. With modern technology, this can happen on the same day. If you don't have any credit, you may need to co-sign with a guarantor who will agree to cover you if you can't pay for damages or rent.
3. Read the Lease Twice
It can't be stressed enough — you need to read every last word of the lease. If any of it concerns you, talk to the property manager about it. Make sure they list any pre-existing damage to the apartment so you don't get blamed for it. If anything seems fishy or risky, back out and find another place.
A common pitfall is signing onto a lease in which the property manager makes you pay unexpected fees for certain things or makes you cover the costs of repairs you weren't responsible for. Also, make sure you're okay with terms like the rent due date, late fees, and more.
4. Become Friends With Your Neighbors
Being friendly with your neighbors is the best way to guarantee a pleasant living situation. They'll be more understanding if you make some noise every once in a while, will be more likely to turn the music down if you ask, and can help you out if you need something. Make sure to be very communicative if you're going to have a get-together or make noise at night. Seek to do favors whenever you can to build good neighbor-karma.
Come to Oasis for Your Arizona Renters Insurance Quote
Make sure your health, belongings, and finances are safe from unexpected calamities by visiting Oasis. We make a strong ally for first-time renters and have offices in the following locations, as well as others: